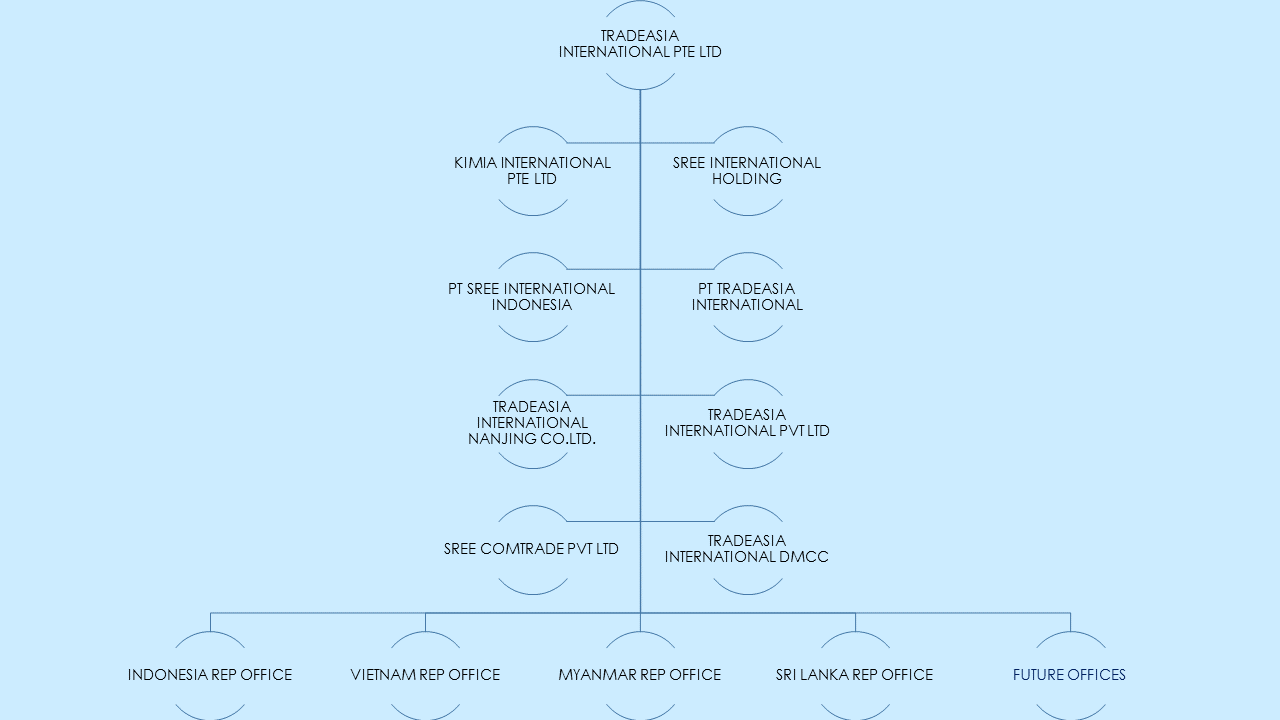 Tradeasia International Group - Organizational Structure
Tradeasia at a Glance
Tradeasia is one of the leading global industrial chemicals/raw materials supplier and supply chain partner. Started the business out of South East Asia Region, now Tradeasia has expanded to many markets including South & East Asia, Middle East, Africa, and Latin America. To oversee the vast distribution, Tradeasia controls the operation from our headquarter in Singapore which is supported by local offices in more than 8 Asian countries, including India, China, Indonesia, Vietnam, Sri Lanka, Myanmar, Thailand, Philippines, South Korea and soon in Latin America, Taiwan & Africa. Being immersed in this business for more than a decade, Tradeasia is highly experienced in our area of expertise. Tradeasia caters to various businesses and industries with reliable and innovative supply chain systems to ensure availability and timely delivery. Tradeasia is proud to serve more than 400 customers all around the world, with over 500 products in our portfolio.
Our Subsidiaries
Along with Tradeasia International Pte Ltd, we have a chemical trading subsidiary in Indonesia and India, which are not only providing service in import-export business but also execute local chemical supply businesses. Other than that, we have a specified subsidiary who handles chemical products Supply in ISO Tank namely Kimia International Pte Ltd. In Dubai and China, we have an Industrial supply chain partner under the name of Tradeasia International DMCC and Tradeasia International Nanjing Co Ltd which are both our trading houses and invoicing entities.
Our Goal
Tradeasia International Pte Ltd's main goal is customer satisfaction. We provide standardized industrial grade chemicals that comply with each customer's specific requirements. We seek to customer's satisfaction as our utmost goal in executing the business and be their one-stop solution provider. More than just trading, Tradeasia also handle the logistic, documentations, and financing in a way to support all parties involved.